Mike Nitsiza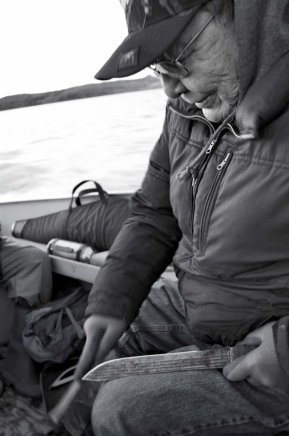 Mike Nitsiza was born and raised in Whati. He was appointed to the Wek'èezhìi Land and Water Board by the Tłįcho Government in December 2008 for a three-year term and then nominated by the GNWT and re-appointed by the Government of Canada in December 2013 for another three-year term.  
Over the years Mike has been very busy, some of his professional experience includes: working as the Band Manager, recreation coordinator and serving as an elected councilor and eventual Mayor for Whati; working for the Federal Government as the Manager of the Lac La Martre Fisheries; working as a correction officer in Yellowknife; working for the Indian Brotherhood in communications; working for the Department of Public Works maintaing diesel generators in the communities; and working with the Department of Education as a School Committee Counsellor for 17 years at the Mezi Community School in Whati.
Mike has been involved with some very important initiatives throughout the North, including: the first push to have daycares within the NWT, being involved as the Secretary of Negotiations for the Dene Nations, chairing meetings for the Treaty 11 Council – which involved translating and coordinating sessions for elders which was critical in ensuring that meetings were held and that decisions could be made, acting as a Board member with the Department of Justice addressing crime prevention - this resulted in such things as the Side Door for youth and Homes for the Homeless, sitting on numerous committees for the Department of Justice to address issues of unemployment, Mike was elected as the first Board member during a federal movement towards Cooperative Boards within the NWT – the Coop grocery store and northern images are two examples of the hard work of this Board that formed numerous Cooperative Boards throughout the NWT.
Mike enjoys facilicating workshops and helping people build their self esteem and live a better life.  He used to be a dog-musher and enjoys the opportunity to get out on the land whenever he can.  One of Mike's most important philospohies is:
"life is our teacher, we are just its students" Mike Nitsiza